I was always a creative person, and I was really unsure of where that left me in the real world. When I was in high school I was inspired by Picasso and Salvador Dali. The abstraction and surrealism always held my interest and encouraged me to look at the world through different eyes. When I enrolled at MacEwan, I enjoyed learning about the Dada movement where surrealism was born.
I worked full-time straight out of high school, knowing I didn't want to crunch numbers or be stuck in a mundane job, but not knowing what else to do. I explored a variety of Arts programs only to find that the jobs to follow school were that of hotel manager, art gallery manager, and more titles I didn't want to fill. Finally, my aunt asked me one day why I didn't look into creating the design for billboards, magazines, and posters and that's when everything clicked! Inspired by the thought of having a job that kept me creatively inspired and motivated I searched for a program that would put me down this path and found MacEwan's Design Studies.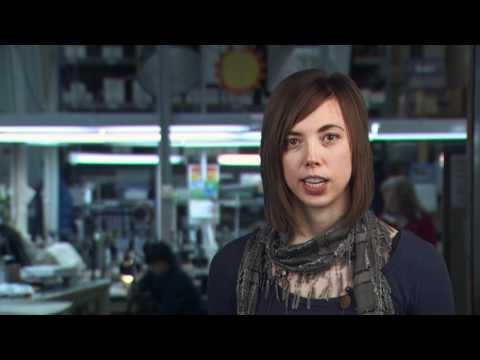 Initially, when I entered the Design Studies program I thought I was going to major in illustration. I loved the way a pencil felt like and extension of my arm and how gratified I always was when I completed a project, but the Design Studies program opened new doors to other creative outlets and that is where I fell in love with photography. When I hold a camera in my hands I feel like the creative possibilities are endless and that I am always learning and growing. The idea of marrying design and photography together always sparks my creativity and keeps the passion of art alive for me. Pursuing design and photography just felt like the right path to go down, and I've never looked back.
When I started the program I learned that design is a process. Everything around us is designed in some form or another, whether it be by nature or by man.
Good design serves a function and has a purpose. For example, good design would be if a poster created to raise awareness elicited a response from its audience.
Design is always changing, referring to the past and moving forward. Some of the trends I've seen today are finding ways to deliver messages quickly and efficiently, which can be seen in the use of icons (such as the Facebook, Twitter, and You Tube symbols). Other popular trends are big bold typography that poses as imagery, and bold colours.
My experience at MacEwan was challenging and fantastic all rolled in to one. The assignments kept me thinking, and rethinking, and exploring. I learned that every problem has more than one solution and that pushing your thought process to the max can be extremely exhausting but will always yield superior rewards.
Right now, I am working as a freelance graphic designer and photographer. I work with a variety of clients both on-site and from home. My projects are always changing, evolving and challenging me. I work on a variety of materials such as posters, postcards, business cards, logo design, invitations, holiday cards, marketing books, family photography, architectural photography, and the list goes on. Taking the step into a free lance career was one of the scariest moves I've ever made, but given the chance to go back, I would do it again in a heartbeat. Working for myself is the most rewarding and enjoyable experience of my life. I can't say there haven't been challenges, but it's when you overcome those challenges that you realize the world is your oyster and that anything truly is possible.
I absolutely love what I do and have no plans to change the road I'm on. I thrive on being independent, and freelance gives me that opportunity. Eventually, I want to be a stay-at-home mom, but I don't want to lose my independence and I believe that working from home and for myself will give me the freedom to make that dream into another reality.
Most recently, I watch a documentary called "to inform and delight" about Milton Glasser and was in awe. Milton Glasser created the "I Love NY" campaign and many other well recognized designs.
To see him now growing his creativity, staying to his grass roots of illustrating by hand while also embracing the current era is simply fantastic. This reminds me that creativity always moves forwards and inspires me to continue down this path, knowing I can enjoy my passion as my work.
Design, is subjective. There is no one way to solve a problem and just because you may solve something differently than your neighbour does not mean either of you are right, nor wrong. Sometimes you need to have a thick skin and just roll with whatever comes your way. Do not let a difference in style, or opinion be your road block. Instead let it be a hurdle that propels you forward to being a better creative thinker. The creative industry is incredibly challenging, but if you're willing to put in the effort and you are truly passionate, it is also incredibly rewarding.
Aimee Kozun and Nancy Gillis own a design and photography company called In Our House. You can review their portfolio at http://www.inourhouse.ca/