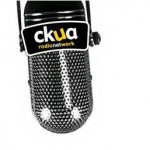 I'm a student getting my degree through Grant MacEwan University's "Bachelor of Applied Communications in Professional Writing" program.  One of the courses I'm taking to fulfill my degree's requirements is called "The Media and the Message."  A part of the course has the class take three field trips to see real-world communications professionals in their work environment.  I don't know about you but the last time I took a field trip with my class a big yellow bus, noisy pre-pubescent class mates and a frazzled home room teacher was involved.With that in mind, I wondered whether these excursions would be entertaining, informative or just a good excuse to stay out of the classroom that day.  After a visit to the CBC and CKUA I can say with confidence that the time spent has met all three of my expectations.  Both visits allowed our class the opportunity to ask questions of professionals who are comfortable in their role as a communicator.  The CBC and CKUA worlds, though, could not be more different.
The CBC gave us the chance to see their studios, the space used to screen nightly news broadcasts and their news room personnel on-hand.  We got to ask about the editing process they employ to splice together random video and audio clips that will air on the nightly news broadcasts.  Our host showed us their remote-controlled/robotic cameras and how the news anchors controlled the flow of text on their teleprompter.  It's easy to see that CBC is a space for journalists and news junkies of all sorts.  We were told that CBC has some internship positions as well if you're at all curious about the world of news casting and reporting.  This icon of Canadian journalism is still going strong after 75 years in business.
CKUA, on the other hand, has a unique history all its own.  In October of 2012 CKUA moved from a dilapadated, ghost-haunted wreck of a building into a brand new facility which has been built from pieces of the hotel that used to stand in-place of the new building.*  Sadly, due to financial troubles, CKUA has had to shut down its local news broadcasts.  This radio station has definitely had its share of ups and downs.  Today, though, its running with state-of-the-art studio equipment (a first for them apparently!) and a library full of enough vinyl and CDs to make any music aficionado drool.  This wonderful Edmonton station even has a space on the 5th floor that will be used as an open air concert hall where a variety of musicians and bands may perform in the very near future.  If the weather is not so nice their new abode also has a room on the first floor with a piano in-place waiting to be filled with all genres of musicality.  CKUA is always looking for volunteers who want to explore the world of radio, music and the arts here in Edmonton.
I'm looking forward to our last field trip to the Edmonton Journal's news room.  I'm sure I won't be disappointed.
I thought that field trips were something you did while in grade school.  I'm glad that I was wrong.
*The ghost's name is Sam.  He was lobotomized when he was alive, sang opera and smoked the occasional cigar.  Ask Katrina at CKUA for more details if you dare.